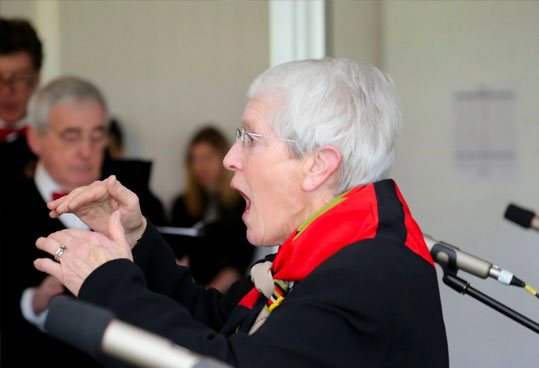 Musical Director – Iris Warren
We are extremely fortunate to have Iris Warren as our Musical Director. She is very special to all of us and regularly weaves her mystical Celtic spells by producing the most magical Welsh choral sounds out of our group of thirty plus troublesome but friendly males.
Iris has taught music at all levels with choral singing particularly by children, and fortunately for us she is a teacher of immense tolerance, patience and ability.
She tells me that she loves her 'older boys' choir, though we are not sure if this is in spite of, or because of, the behavioural characteristics she recognises from s(k)chool.
She has been heard to complain that of all her children's choirs, the 'Brighton Welsh Male Voice is the most troublesome!'
Accompanist Sue Fairhurst
B.MUS (Hons) ARCM Cert Ed
Sue obtained an Honours degree in B.MUS at Birmingham University and became an Associate of the Royal Academy of Music before qualifying as a secondary school teacher.
Sue spent many happy years teaching music in Warwickshire and Brighton, becoming Director of Music at Varndean School and then at Brighton & Hove High School.
Since retiring Sue has continued with her musical interests particularly in directing choirs and also playing the bassoon.
Accompanying choirs is a particular favourite of hers and she is delighted to be the regular accompanist for BWMVC.